OUR BAJA HONEYMOON:
In late-November we spent our honeymoon in Cabo San Lucas, Mexico at the Pueblo Bonito Sunset Beach resort.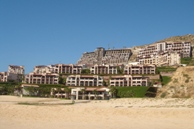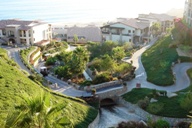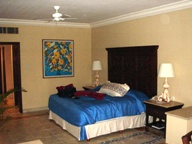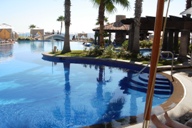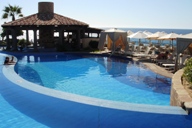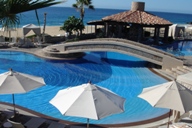 The Pueblo Bonito Sunset Beach resort was simply stunning! With a quiet serenity & 5-star accomodations in every aspect of this mountain-hugging resort, we were in total relaxation for the week. There were parakeets, flamingos, huge cockroaches, & geckos on the walls too. To get around the resort we rode in modified golf carts which was pretty exciting. The pool was great with endless drinks, pool volleyball, Mexican bingo, ping pong, & all at the 90 degree pool. We spent several late nights in the pool just relaxing.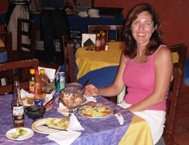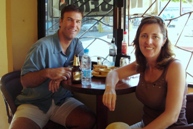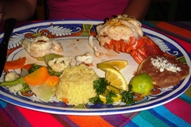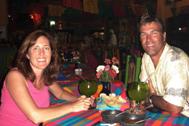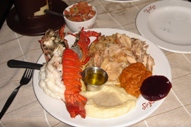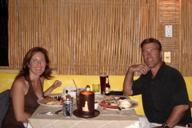 Since we both love Mexican food we were right at home in Baja eating lobster tacos, fresh whole lobster (4 nites in a row!), chicken burritos, seafood marisco's, & other local specialties. On Thanksgiving we visited the Old Trailer Park and had Turkey & Lobster! Other favorite spots were Pancho's (most authentic) & the Crazy Lobster ($10 lobster dinner!). After searching for marisco's the whole trip, Lee was finally rewarded at Mazatlan with a nice large goblet filled with shrimp, octopus, clams, & scallops in a spicy lime sauce. A unique limonada was a combination of lime juice & Sprite and was very thirst-quenching. Kathe was 12-weeks pregnant so she didn't drink but Lee didn't miss the chance to have a couple tasty shots of tequila at Cabo Wabo.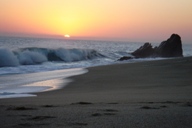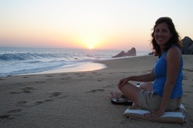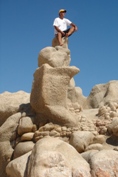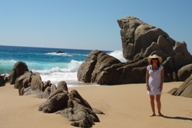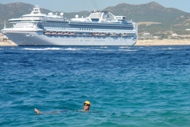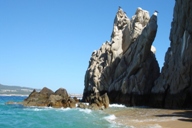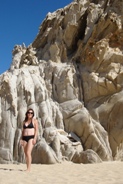 The Pacific side ocean was very rough with 10-15 foot waves crushing the beach and made for amazing sunsets as well. The protected Cabo marina however was calm & clear. We took a water-taxi from the marina to Lover's Beach, a private beach with spectacular views of the southern-most point of Baja. The rock formations were beautiful & fun to climb too!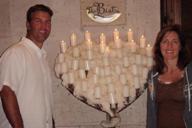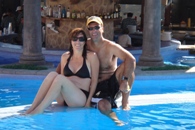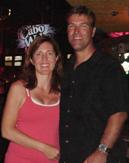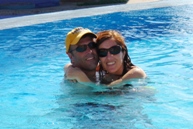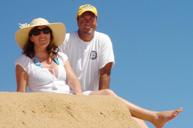 And here are some pics of the two newlyweds ... since it IS a honeymoon!
When we finally returned to the Cabo airport to leave ... our plane was broken and we were extremely lucky to get on the last flight out into San Diego (instead of LAX where our car & Dillon was) or face not being able to get home for three more days!