DARMSTADT GERMANY TRIP 2009:
In June 2009 I took a work trip to Offenburg Germany & visited T34 friends in Darmstadt.
I arrived into Frankfurt after a very long 24 hours (6a Saturday to 6am Sunday) from San Diego to Philly to Frankfurt. Took the speed-train (150mph) two hours from Frankfurt to Offenburg with my boss from NC and then slept most of the rest of that Sunday we arrived. Offenburg is in the southwest part of Germany near France and it's BMG's headquarters in a tiny historic town with cobblestone streets. After four days of working 9-5pm & partying with the German BMG staff till 2am each nite I was ready for a relaxing couple of days with T34 friends I had known for 15 years but never met in-person. And of course I was extremely excited to see up-close two of my Top 25 T34s: a 28K-mile Anthracite 1963 Manual-Sunroof and one of the original M341 Cabriolets. I caught the express train from Offenburg to Darmstadt on Thursday afternoon and was surprised to see Jorg Fischer & his 3-year-old son Mathe at the train station holding a large T34 sign welcoming me to Darmstadt (very cool!). Jorg has two young boys and a very patient wife that gives him the proper amount of grief over owning so many cars, just like all our wives do. We met another T34 owner Tobias Ebner for Martzen beers & steak dinner at their local brewery pub and talked T34s until the place closed. That was a great beginning to an awesome experience in Darmstadt Germany!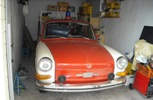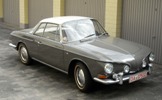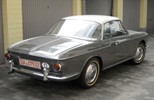 Jorg & I drove over to the garage where he stores three VWs (Orange/White 1974 Variant FireWagen, Sea Blue/White 1965 Notchback Sunroof, & Anthracite/White 1963 T34 M343 with manual-crank Golde sunroof). He fired-up the 1963 T34 and off we went to visit one of his current work sites. Jorg is an engineer for road construction projects in Darmstadt, building/ repairing local roads & helping local towns to beautify their streets and keep them in a high-level of maintenance. We parked the T34 next to the construction project and he inspected the work (asphalt laying) while I spent a half-hour taking detailed photos of the T34. Of course several spectators walked over to inspect the T34 and as me all kinds of questions (but I speak no German) so they were confused of course that an American would be driving a German-registered T34 in such amazingly preserved condition. Jorg came back and gave the spectators a history of the T34, thankfully.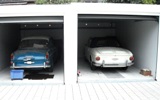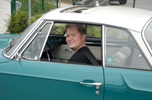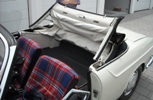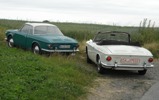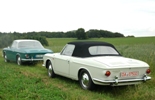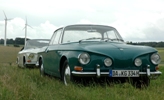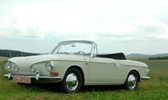 Then we met-up with Tobias Ebner (driving his restored Emerald & Pearl White 1963 M345) at Jorg's garage where two other VWs are stored. There was another Sea Blue 1964 Notchback Sunroof (bone stock & complete rust-free condition) and his restored Pearl White & Black 1963 M341. This M341 is the nicest restored one alive today and was restored in the early 1980's by a wealthy Porsche Cabriolet collector from Stuttgart with mostly NOS panels and an unlimited restoration budget. Jorg exchanged the historic license plate & 6V battery from the M343 to the M341 and lowered the roof. I noticed that the rear seat vents were turned 90 degrees as compared to the Coupes and confirmed this in the photos of the other M341s, very easy way to identify the real ones from the conversions! So off we went following Tobias' M345 through the small town streets and into the hills towards the forest region about 20 minutes away ... such a beautiful country! Light rain began to fall as we cruised up into the hills, past the Frankenstein castle, and stopped for a photo shoot on a hill just bordering the Odenvald forest. The rain got a bit harder so we closed-up the roof. We drove through several historic towns, following closely behind the M345 and then returned the M341 to its garage so Jorg could get back to his family vacation.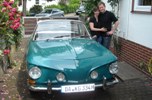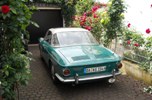 We headed out to Tobias' home 5 minutes away and met his beautiful wife Silke and their newborn Anika. His Emerald & Pearl White 1963 M345 was restored back in the 1980's to very good condition. The Silver cloth interior is completely original and in pristine condition. The dash pads & door pads are perfect, and the electric sunroof works like new as well. He bought this T34 several years ago and is patiently finding the short list of parts to make it 100% authentic. His first T34 was a less-than-original 1967 M343 which he sold and bought a nice Cypress Green 1969 Coupe which he still has today. It was great to finally meet Jorg & Tobias having been emailing with Jorg for the past 15 years. We are all very excited for the T34 50th Anniversary celebration in August 2011 when all the European T34s will meet once again, joined by Sergio Sartorelli the designer of our beloved T34.